This is the website for the Church of England Parishes of Acle; Beighton with Moulton; Freethorpe; Halvergate with Tunstall; Limpenhoe, Southwood & Cantley; Reedham; and Wickhampton; within the Diocese of Norwich.
Whether you are a local resident, a visitor, or enquiring from a distance, Welcome!
Approximate Parish Boundaries of the Benefice: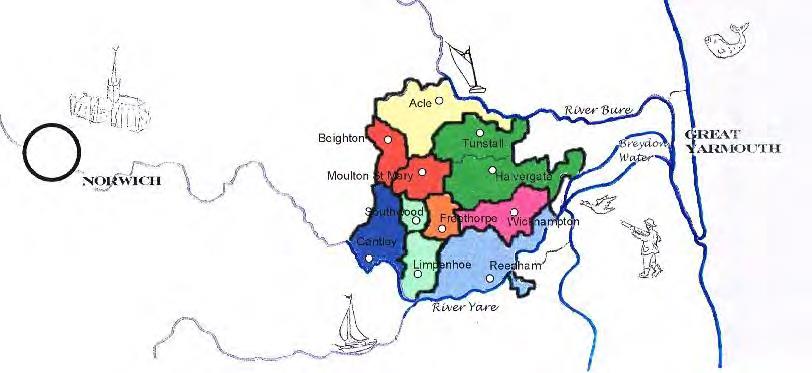 Bordered by two of its principal rivers, our benefice is fortunate to be set within the inspiring landscape of the Norfolk Broads. Our church buildings stand (and have stood for centuries) as signs of God's presence and to lead us to lift our hearts and minds in worship. Covering 11 villages, our church people seek to promote the love of God within our local communities, not least by praying for them; and to witness to the fullness of life lived with God through Jesus Christ.
Donate to our group of churches (via the Diocese of Norwich website)
God of compassion,
have mercy upon this nation and our world in this time of fear and confusion:
we bring before you those who are suffering and who tend to their needs;
may those in isolation know your comfort and company
and may neighbours show your love in works of care, kindness and prayer;
we pray for the National Health Service and all engaged in scientific research
and we pray too for those upon whose shoulders the yoke of leadership rests,
that in their conversation and communication your still small voice may be heard;
we ask this in the power of the Holy Spirit,
through the One who stretched out his hands to bless and to heal
even Jesus Christ our Lord. Amen.